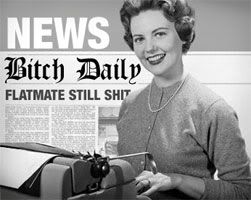 This has been a crappy day. Sorry to start out my post that way but geez.....could the shit hit the fan any harder??? It starts off with Gary's computer crapping out. So, of course, that gives him the right to shove me out of my desk so he can use mine, leaving me chairless and keyboardless. Actually his crapped out yesterday. He's totally freaking out about our accounting info and his alarm downloading encrypted program. I ask you, what can I do? I have no idea how to fix a computer. Luckily, we have a great bunch of guys at one of our local computer shops that we use. Unfortunately, they talk in that computer mumbo jumbo language that gives me a headache. I really don't care what the RAM does, what the heck a power supply is for or why the 17" CRT, VGA, IGA, A&P is better than a UPS, NRA, NAACP, SOS. I just want the damn thing to be nice when I hit the 'ON' button and go to sleep when I hit the 'OFF' button. I don't need to hear about an internal corruption error code #080x4206gb that can't read a memory card or retrieve the proper licensing to encrypt the thinga-majiggy. All I hear is blah, blah, blah. So...long story short is Gary ordered a new computer. I guess this doesn't solve the problem of what happened and why to the one he had, but it is a solution.
I've been busy getting things ready for my camper, which I pick up tomorrow evening. I'm a little nervous about backing up the thing. For me, whenever I have to back up a trailor or the boat, I break out in a sick sweat and my brain turns to mush. I always turn the steering wheel in the wrong way, thus jack-knifing the lucky sucker causing my husband to pop a vein screaming at me. "Use the mirrors! That's what they are for!" he'll hollar at me. "Turn the wheel in the opposite direction you want the trailer to go!" Which if you're looking in the mirror is the opposite of what you are seeing. Holy Christ, now I'm really confused. Plus backing a 9' wide trailer into a spot 9'1" wide doesn't leave alot of room for error. Add in the nerve factor and you've got yourself a regular breakdown coming on, complete with sobbing, screaming, door slamming etc...
I can't remember who it was, (maybe Bonnie?) who so kindly let her husband launch the boat with her in it and she would use the trolling motor to bring the boat to the dock after he parked the truck at the launch. A trolling motor on a bass boat is usually controlled by a foot petal, with an arrow of some sort on the motor itself pointing in the direction the boat will move. On this particular day, her husband had done something to the motor, causing the arrow to be pointing in the opposite direction. Here she was getting further and further away from the dock while her husband is literally ripping his hair out screaming "Point the arrow in the direction of the dock!". My heart went out to her that day for going through that!