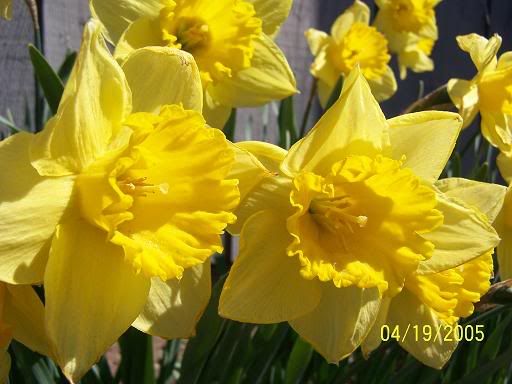 Alright... I give up.... UNCLE!!! Enough rain already. We've had one beautiful day in the past week. One. Now we are deluged with rain again and it looks like it's going to last through Tuesday. I thought I would show my readers some lovely daffodils that were blooming next to a foundation. To me they look like they are standing tall, marching into spring.
I brought my pop-up camper home and am happy to report it only took me, alone, 6 hours to fully set it up. I'd better work on that time somewhat, no? I had a terrible time with the awning. I broke a fingernail to the quick and cut my finger and still couldn't get it together like the picture showed. Finally, the Lord of Lets Never Follow Instructions comes home to show me the error of my ways and to discover that the reason I couldn't do it was the awning was installed backwards AND upside down at the factory. At least it wasn't someting I was doing. A few turns of a screw driver later and VOILA, our own outside patio is complete!
I don't know if some of you reading have had a chance to check out some of my links to some other blogs. One of my favorites is Kim. She's a very humorous writer! Another fave is Sleepingmommy. Check these ladies out if you get a chance and if you'd like a good chuckle.