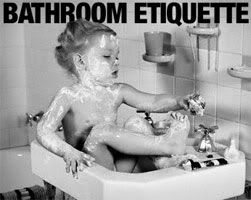 Could someone tell me the following reasons for these things happening:
Why is it that a Q-Tip is magically deflected out of the wastecan by some unseen forcefield? Then becomes invisible to the person tossing it away? Just curious.
Also, if a shampoo bottle held no shampoo last time you tried it, why wouldn't you throw it away instead of leaving it upside down like a forgotten bottle of ketchup? Just curious.
Also, just curious to know how a bathroom can collect so much dust? Any ideas?