I don't know how the rest of you are in a panic situation, but I'm no good at them. I haven't had that many in my life (THANK GOD) but the ones I have....well... let's just say...I'm useless.
Today, C, the guy who works for Gary was working by himself across town while Gary was at another jobsite. I was working at my desk when there was a knock on the door. Chloe started barking. "Come in!" I holler and I heard C say "Hey Chloe. Um... Sheri... I think I split my head open". Oh good Lord, any happy feeling I had instantly turned to an ugly sick pit in my stomach. I ran out into the kitchen and here he was with his shirt on his head, blood dripping off his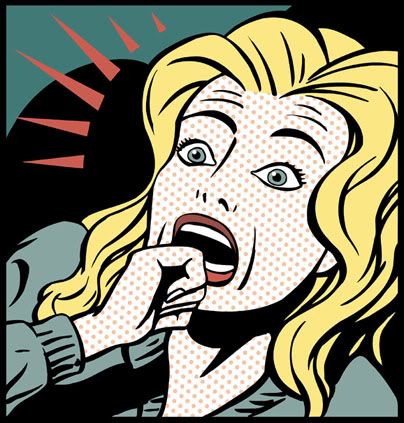 nose, down his face, onto his arm. Christ, even his glasses were full of blood. "Can you look at this?" he says and starts to take the covering off his head. "NO!! STOP!!! Mmmmoommm! Come here quick!!" I yell. My knees are weak, I think I'm going to puke, just the thought of looking at a split head makes me want to faint. Of course, my mom comes out (she lives in a place attached to our home), she's all cool and collected, removes the covering, looks it over, declares he IS going to live and helps him clean it up. It turns out it was a puncture in the top of his head from a nail and yes, it did bleed profusely, but most head wounds do (or so I hear).
The same thing happened when Hannah was little and crawling and fell down the stairs. I froze. Gary, who normally moves like a sloth, turned into Lightening Dad... full of Knowledge Dad, the all Calming Dad.... while I'm standing there blubbering like an idiot. When she split her chin on a bowling ball, he was able to calm her down, declare that she needed stitches, take her to the emergency room and hold her hand through it, while I had to leave the room because her cries and tears were breaking me down. However, when she hurts herself...I'm the one she calls for and I try so hard. I really try to hold it together and be there for her but her 'hurt' cries rip my guts out to the core. Any mother can tell her child's 'hurt' cry. It is so different from the one you hear when they are whining, tired, hungry or just cranky. The hurt one can turn your blood to ice and definitly brings out the 'mother bear' protective instinct in you.