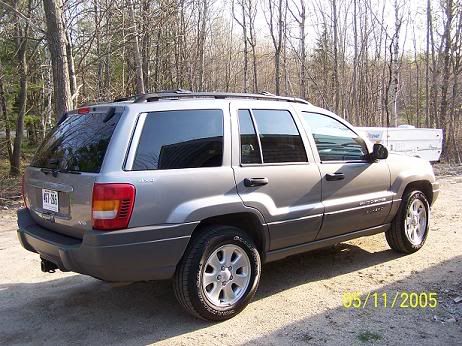 I hate to keep a big surprise from you all out there but here is a picture of my new wheels! Well, new to me anyway. A 2001 Jeep Grand Cherokee Laredo with only 44K miles on it. Just broken in! I did love my Town & Country, but it was getting worn out. With the new pop-up and all, I wanted something that would tow it easily and be 4WD in the winter.
On another note, I am making a conscious effort to not watch the news right now. Between murders, fires, car accidents and such... it is too much. Yesterday, I received a call from the principal at the school. A little boy was scared to come to school because a couple children had told him they were going to kill him for not playing army game with them. WTF??? It seems my daughter's name was brought up, the mother of the little boy notified the cops and the superintendent. The principal spoke to our daughter who had no clue what the boy was talking about. G & I went to the school and signed H out for the rest of the day so we could talk to her.
I'm not sure where I am going with this but I think it was blown out of proportion somewhat. I do understand a parent's concern but I think in this situation, just talking to the principal and handling it within the school would have been fine. Involving the cops? Not necessary in my opinion. We talked with Hannah quite extensively throughout the day. She never wavered in her story and I believe her. She held constant eye contact with us while talking which is important when telling the truth. When I was little, my parents used to tell me that they could tell when I was lying because LIAR was written on my forehead. Of course, not being able to see my own forehead when speaking, I had to tell the truth because that flashing, neon word LIAR would appear and rat me out. I guess this is what I am in for now that my little girl is growing up. A world of accusations, lies and deceit. Maybe not from my own but around her, swirling like a storm that I don't want her part of. I can't protect her from everything but I can teach her to always tell the truth and I hope we can do that. From what I saw yesterday....we are well on our way.