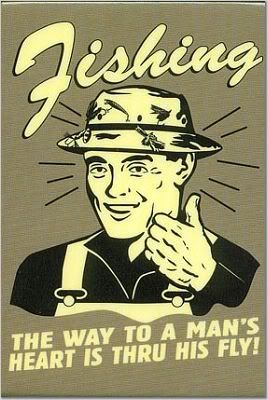 As I sit here typing this, G is on the phone sounding worse than a gossiping old hen. I can't believe this. He's talking to another fishermen, giving his 2 cents, along with their 14 cents, by God, they've solved the world's problems. If I am ever on the phone that long, he's hounding me to hang the thing up. He's hanging up now, the phone has practically melted to the side of his head and he's dialing the next victim as I type. Sometimes I feel like handing him his cell phone and saying "Here dear, this fell off the side of your head".
If I say to G, "Honey, let's talk about us and our dreams and goals for our future" he gets a glazed look over him, a thin string of drool starts out of the corner of his mouth and I commence to speak in the language that men hear as blah, blah, blah. Come on ladies, don't lie....ALL of our husbands hear this at one time or another. However, if I say "Honey, let's talk about different types of lures to use on a cloudy day when the fish are suspended in 12' of water off a point". He grabs his GPS. Charts, rulers, maps and pencils starting falling out of his butt, he gazes intently at me and says "yes, let's do that!"
Today was Mother's Day. My daughter, Hannah had given me the most adorable card she had made in school (I had posted a picture of it earlier). Plus they woke me up this morning and wanted to take me to breakfast. We ate at our normal Sunday a.m place. This is a local business that brings you the breakfast but you are expected to picked up your dishes after and put them in the 'dish bucket'. After our breakfast, G& H both got up and walked away. I sat there with my jaw hanging open wondering why this was different than any other day at home???
On a more serious note, today I thought about V, our daughter's first mom. I've wondered every year since Hannah came to us, how she might feel on this day. Is she sad? Is she happy? Is she content? The first few years of Hannah's life, we kept in contact but it has drifted to nil. Even V's mom used to send Christmas cards and birthday cards, but even those have stopped. I wonder if someday Hannah will really want to know about her. I have a lot of information to share when Hannah' is ready, including pictures. Hannah looks so much like her, it's scary. The beautiful eyebrows (Brooke Shields eat you heart out!), the eyes and smile. Someday Hannah might be happy to know that she does look like someone....even if it does make me sad in a certain way. I've often wondered what an child of G& mine would look like. I wonder if V might ever have more children and Hannah will have half-siblings. That, someday, would be a wonderful thing for her. I hope that Gary and I can raise Hannah with a positive feeling about her adoption so she can accept the situations the future might bring regarding that.