I'm not one to go and freak out about things and I'm certainly not one to try and force my opinions on anyone but I've got to talk about the stupidity I see everyday when it comes to bicyclists on the road.
We live in a small,
tourist trap,
quaint fishing village on the southern coast of Maine and in the summer our population swells to about 10 times it's winter's size...thus the traffic is horrendous from June-August. Our town has no bike paths, no plans to build any, no provisions for biking, very few sidewalks and lots of twisting turning roads. The coast in my town is full (thanks to receding glaciers!) of huge ledges of granite, boulders the size of small houses and lots of salt marshes. When settlers needed to get from one place to another, they rode their horses and carts around these obstacles, creating paths, which became trails, and then roads....which we eventually slapped some asphalt on and VOILA! A maze of very twisted roads that wind around these obstacles with barely enough room for 2 cars to pass safely (let alone 2 cars AND bikes on each side) and no room for expansion because the houses were built close to the roads. You see... long ago, before snowblowers and personal vehicle snowplows were commonplace, it made no sense to build a house far away from the road unless you've got someone to do some serious shoveling in the winter.
Now, I ask you..... given the scenario I just described to you..... what in the frig tarnation would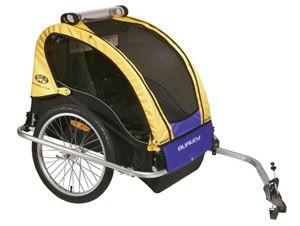 possess a person to want to bike along our roads? Why would you subject yourself to cycling on roads where your life is in peril at any given moment? And the question I really need to have answered, why oh why would you put your kid in one of those pull along buggy things and drag them up the road behind you? Even if they are wearing a blast helmet? I know these buggies are all stylish and whatnot and I'm sure you look really suave and hip but for christ sake's - how could you ever explain that accident to anyone? "Well, it was like this. I
really, really
wanted to take a bike ride and I could see that the roads weren't designed for it and the area doesn't cater to it but I thought "what the hell - it will be fun."