I guess I should start out this post telling you all that the picture I had posted of that wet cat was not ANYTHING that resides in my house. Christ, something like that would scare the shit out of me! yikes!
Yesterday, I was sitting at my desk minding my own business when a certain someone asked me a question. I answered the question as best I could only to be told "OK, Hormone. Take it easy! No need to get nasty!" "Excuse me?" I said, thumbing through a magazine, "I don't think I'm being hormonal. You think your so smart. I suppose you are going to tell me that by the level of my hormonalness (is that a word?) you know what cycle day I am on?" He thought about that for a minute and said "Yes, I can. Judging from your tone of voice and level of crank, I'd say your monthly friend will be here on Monday or Tuesday!" I slammed my magazine shut. "WHATEVER! You always think you know everything. I'm not supposed to start until the 16th! HA!" He pointed to the January calendar and said "That's what I said... Monday or Tuesday." Jeez.... what a fuckin' know-it-all I'm married to.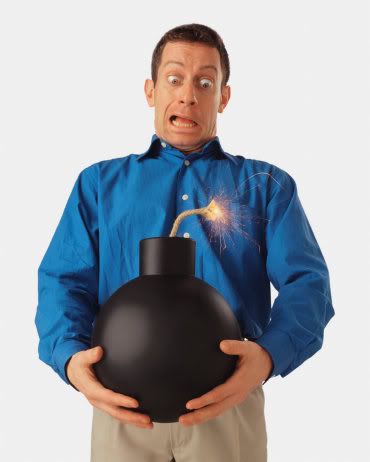 After this little exchange, Gary told me that he has an idea for a new reality show that will test the inner strength of a man like no other. It's called
Hormonal Week with My Wife
and he promises that it will have all the necessary ingredients to be a great show. It will have spine-chilling suspense, humor, drama, emotion, screaming, cussing, death threats and a host of other tidbits. He says he loves living for a week each month having to throw his hat through the doorway before entering the house just to gauge the reception he's going to get. Why he says things like this when he knows I'd rather skin him alive is beyond me. I guess he hasn't heard of the latest scientific study:
A study in Wisconsin showed that the kind of male face a woman finds attractive can differ depending on where a woman is in her menstrual cycle. For instance, if she is ovulating, she is likely to be attracted to men with more rugged and masculine features. If she is menstruating, she is likely to be impressed by a man with scissors driven through his temple.
All I can say is that my man knows me well. He should......tomorrow will be 22 years of wedded bliss together.
Happy Anniversary my sweet Gary.