Once in a while I read a good book and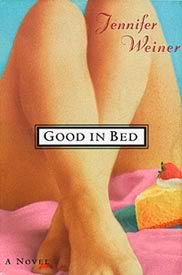 like to let others know about it. I know my sister
Sue
is an avid reader and I love it when she tells me about a good book. I gave myself a migraine reading
Lovely Bones
after Sue told me not to start it until I was sure I could keep reading because I wouldn't be able to stop. Of course, she was right again. My bloggo-friend,
Cecily
, has occasionally chatted about this author named
Jennifer Weiner
and how wonderful her books are. What the heck... I ordered one from Amazon and finished it last night. This book,
Good In Bed....
I could not put down! The main character, Cannie Shapiro, was such a fun, intriguing character. The story basically goes like this: Large woman is going nowhere relationship with boyfriend. They split up. He writes about it in a newspaper column. She gets pissed. Ex-boyfriend's father dies. Ex-BF reached out to Cannie during his grief - they have sex - she winds up pregnant and her journey really begins. It's a fabulous book and leaves no questions unanswered about the characters. I hate reading a book that leaves me frustrated at the end because I want to know more. I like things all wrapped up and finished so I can put the book away neatly. I have been known to throw a book in a fit of rage because it didn't end the way I wanted it to. How nuts is that? One of Jennifer's other books has been made into a movie,
In Her Shoes
and is out at the movie theaters now. I 'm dying to see it. Me, who never goes to the movies.... I WANNA GO!! If any of you have seen this movie.... how about telling me if you think I'd enjoy it or not? I'm probably guessing that Gary would sleep through it??? His favorite movies run on the lines of Rambo, anything with Steven Segal in it, or any movie that involves gun fire, explosions and cars being driven at insane speeds.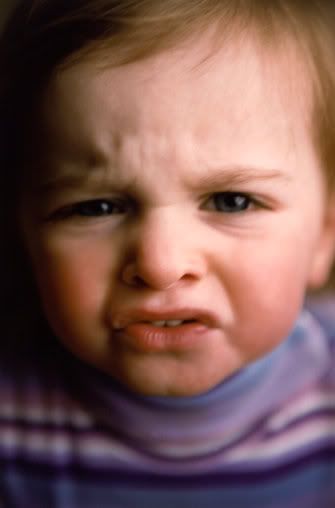 Speaking of cars, the other day, Gary and I were driving to Home Depot (his favorite store after BassPro Shops) and we were following a small 4 door car with two women in the front seat. We stop at a traffic light and suddenly in the back of that car.... up pops a baby in the back window. I say he was a baby.... but he looked to be about a year old. He was smiling at us and reaching up to touch the ceiling of the car and the inside of the window. I could tell that Gary was upset because he said "Holy Shit - I hope that lady realizes that kid is standing up before she guns it when the light turns green." She didn't. The baby (luckily) was hanging on but still standing and grinning and bouncing with his new-found freedom. I couldn't believe the woman driving didn't see him. We continued to follow them, watch horrified as that unrestrained kid had full run of the back seat. We were coming up to another traffic light. "
Please, please look lady"
I was praying to myself. I just knew when she put her brakes on that he was going to fall forward. Suddenly, the passenger in the front seat turned around and I could see her take the arm of the baby and sit him down. He must've got out of his car seat. Gary and I pulled up on rightside of the car at the traffic light and looked over at him. He was mad and frowning and hating the world at that moment. He looked right at Gary and Gary said to him... "I know buddy.... I know just how you feel."