Many years ago, when I was working outside the home for the local cable company, we did an inhouse study program of Stephen Covey's The 7 Habits of Highly Effective People . Truthfully, I couldn't stand the course. Not because I didn't want to be more effective..... I just hated doing that type of seminar thing at work. We did the typical scenario simulations of having a big empty jar surrounded by rocks of various sizes. The biggest rocks represented family, faith, health and home, while the smaller ones were one's job, hobbies, civic commitments and daily stresses. Someone had to take the jar (representing one's life) and fit all the rocks in it. Of course, the person always just randomly starting shoving the rocks all mish-mash into the jar, in no particular order and they wouldn't all fit. However, (and here's the clincher) if you put the big rocks in first (representing taking care of the important things first) the other small stuff will just flow around it and all fit perfectly. Try it, it works.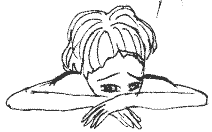 The other topic we covered that has always stuck with me was the emotional bank account. Everyone has this account but they might call it something else. If you think of your relationships with others as a 'bank account' for emotions, it's easy to forgive and forget. Say for instance, you have a friend who is a good listener... funny and warm. You enjoy spending time with this person and they in turn you. Every time this friend greets you with a smiley hello, makes you feel good, listens to you or does something nice for you ... a little deposit is put in the 'bank'. Over time, the total amount of deposit gets bigger and bigger in each other's account. One day, this friend bites your head off for something. Oops! Out comes a withdrawal from that account. You momentarily feel slighted but shake it off because that friend has built up such an account with you, the withdrawal doesn't really affect the whole balance. It's not the accustomed way this friend treats you and vise versa.On the other hand, if you know someone who usually is making withdrawal after withdrawal, you just don't want to be around them anymore or it's not worth the effort. They have drained the emotional account dry and there's nothing left. Does this make sense?
I've tried to use this bank account philosophy when dealing with my husband. He can be a real asshole bankrobber at times. Oh Lord can he make some HUGE withdrawals. However, he also makes big and little deposits all the time. Most of the times, others don't see or hear these deposits, so some might think I get the short end of the stick. My husband has always told me I'm beautiful, no matter what type of freak I happen to look like at the moment. He's never told me I need to lose a few pounds, even though I know I need to (alot!). When he speaks about me to others, it's with kindness and pride. He'll wink at me, rub my back, ask me if he can make me a cock-in-the-tail (his word for a cocktail), make sexuual innuendos towards me and just is fun to be around. He brings me these God awful gifts sometime, but I try to remember it's the thought that counts and his heart IS in the right place. I remember one time he bought me a dumpcart for the riding tractor. He was so proud and I was pissed. I think I hurt his feelings yelling about what a waste of money blah blah blah. However, over the years, I can't tell you how many times that cart has saved our backs, loaded with brush, wood, sand, mulch..... The kids love it because we can pull them around the house and woods in it. It's one of our most cherished yard thingys. Everytime I say "I am so glad we have this cart" he'll look at me and smile...kaching...deposit made.
Okay, so I did come away from that class with a little something after all.