Merry
Christmas
! What a wonderful Christmas. Hannah was up at the crack of dawn and she really is so well behaved. She kept going downstairs and then coming back up to tell us what Santa had brought. Each time she pulled something out of her stocking.....up the stairs she'd come to relay it to us. So CUTE!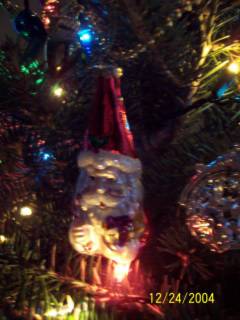 Had a great ribeye on the grill(cooked to perfection by Gary), baked potato, salad, peas & onions and cheesecake for dinner. Very delicious. Gary didn't even get dressed yesterday....I only did because I had to go get some batteries. Christmas Eve we went to Shawn & Sarah's for hors d'oeuvres and drinks. Very yummy and Gary drank too much. He was such a big help getting things ready.....upstairs weaving around, trying not to puke. Oh the joys of Christmas. lol
Blogland is very quiet over the holiday and so is my board. It's amazing how much I enjoy reading some blogs. The land of Infertility has some very funny women writing and their stories are amazing and powerful. Some of them might think my story is amazing as well but I can't write. I've tried to write it all down but it's too jumbled and doesn't follow a timeline. Plus my emotions keep getting in the way of objective writing. Some of the best blogs I'm reading are....
http://www.alittlepregnant.com/alittlepregnant/
,
http://tertia.typepad.com/so_close/
and
http://zia.blogs.com/wastedbirthcontrol/
These women have been through so much and are an inspiration to many on the web. For new mother humor, take a look at
http://www.dooce.com/
She (Heather) is hilarious and constipated all the time!
Hannah is off from school this week and we are planning to have Hayley come over one day to play. Hannah certainly got enough new toys to keep them occupied. Hannah is really loving her new bed. I still haven't put her clothes in her new bureau. What the heck kind of mother am I?